Island of Elba: Sant'Andrea » the area of Sant'Andrea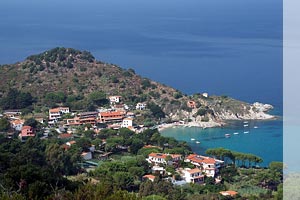 Sant'Andrea
, an outlying part of the town of
Marciana
, is a pretty little holiday resort easily reached by a twisty road leading down to the sea.
It is situated in a beautiful green countryside covered with mediterranean "macchia", the typical vegetation of the island and the little sandy beach is set in between two rocky headlands.
In front the colours and the transparency of the sea are wonderful. In the back dominates the
Monte Capanne
mountain (1099 m) with its secular chestnut woods reaching down almost as far as the sea.
Sant'Andrea
is a lovely area of the island with an interesting geological structure, a superb climate, a fascinating natural environment and of course, for all these reasons is included in the
National Park of the Tuscan Archipelago
.