Island of Elba: Sant'Andrea » the mountain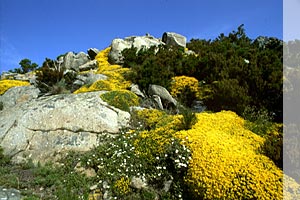 On the south side of Sant'Andrea lies the highest mountain of the island,
Mount Capanne
whose slopes are covered with chestnut woods. It is 1019 metres high and you can reach the top by cable-car from Marciana.
On the other hand you can go up the mountain from Sant'Andrea by foot, by mountain bike or on horseback using the many pathways and mule-tracks.
The area of
Sant'Andrea
gives you the chance to follow many unusual itineraries which have recently been re-opened by the local authorities. These will give you the opportunity to encounter the natural wonders of this lovely island. you will be able to admire animals, plants, landscapes hidden between the green of the mediterranean "macchia" and the blue of the sea, charming details which are often overlooked and forgotten by mass tourism.
The most frequent encounters regarding the local fauna are the red partridge, hawks and wild goats where as the local flora shows off with the colours of the anemones, heather, juniper and the perfumes of the lavander, rosemary, mint and eucalyptus.
The
Bellavista Hotel
is in a privileged position
between La Zanca and Sant'Andrea
, from where all paths for excursions and trekking are reachable in a few minutes only.