Island of Elba: Sant'Andrea » the sea and the beaches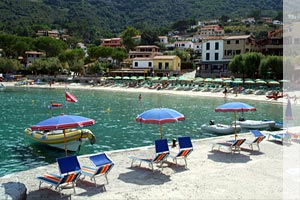 Sant'Andrea offers its visitors who love the sea the possibility of choosing between a fine
sandy beach
or a
granite cliff
with a formation unique in the world.
Taking a narrow pathway excavated in the local rock formations, over typical little wooden bridges, you can reach in a few minutes, the dunes made of
ancient granite
with unusual orthoclase crystals set in the rocks.
Sant'Andrea
is a perfect location to sunbathing or walking, relaxing on the beach or under an umbrella, or practising
sports
such as windsurf, kayak, diving or sailing.